Running Tongue - Rhino_Vision by Matthias Sperling
The Running Tongue (2015)
The Running Tongue is a film installation work by Siobhan Davies and David Hinton, to which Matthias Sperling and 21 other choreographers contributed imagery, made in collaboration with sound artists and animators.
Footage of a running woman is played continuously in a loop, freezing at random intervals to reveal selected frames treated by each of the artists. Combining collage, repetition, static and moving image, the frozen frames unveil a scene embedded in reality, with fleeting moments of strange, surreal and visually poetic activity.
Like the other 21 artists, Matthias Sperling was invited by the directors to devise two short 'visions', each 10 seconds long and related to a proverb of his choice. Sperling chose to work with two African proverbs that he encountered in his research:
'When you think of a rhinoceros, climb a tree' (still from film installation, above)
Sperling interprets this Shona proverb as a reminder of the importance of trusting one's intuitions and acting on them. He relates it, therefore, to his artistic interest in the intelligent unconscious of the body and the role that it plays in dance and choreography. Here he devises an eccentric twilight scene in a savannah-like park landscape, in which he and Helka Kaski are suspended in contemplation, while the image of a rhinoceros (after Dürer) gradually forms as a constellation of stars in the night sky above them.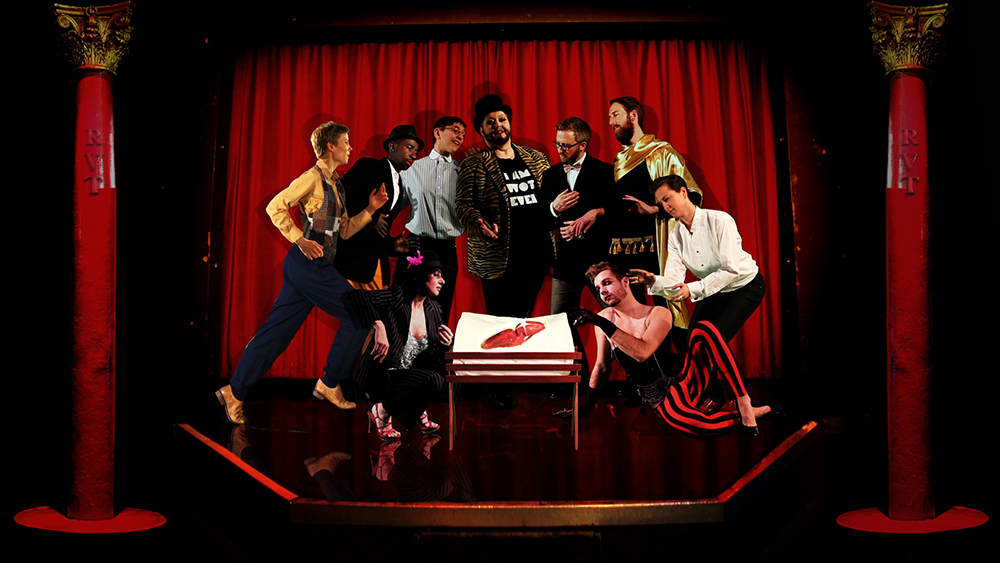 Running Tongue - Sweet Potato_Vision by Matthias Sperling
'If you try to straighten a sweet potato, it breaks' (still from film installation)
In Sperling's queer reading of this Bemba proverb, a tableau vivant of well-wishers gaze lovingly upon a bent sweet potato in a nativity-like scene, set on the stage of historic London LGBT venue the Royal Vauxhall Tavern.
With Helka Kaski, Mickel Smithen, Amy Bell, Adriana Pegorer, Ingo Andersson, Gitta Wigro, Stefan Jovanovic, Neil Wissink, Matthias Sperling.
Produced by Siobhan Davies Dance
Exhibitions/screenings: Carriageworks (Sydney, Australia); Light Moves Festival (Limerick, Ireland); Sadler's Wells (London, UK); Siobhan Davies Studios (London, UK); Kalamata International Dance Festival (Kalamata, Greece); Catharine Clark Gallery (San Francisco, USA); National Museum of Modern and Contemporary Art (Seoul, Korea).